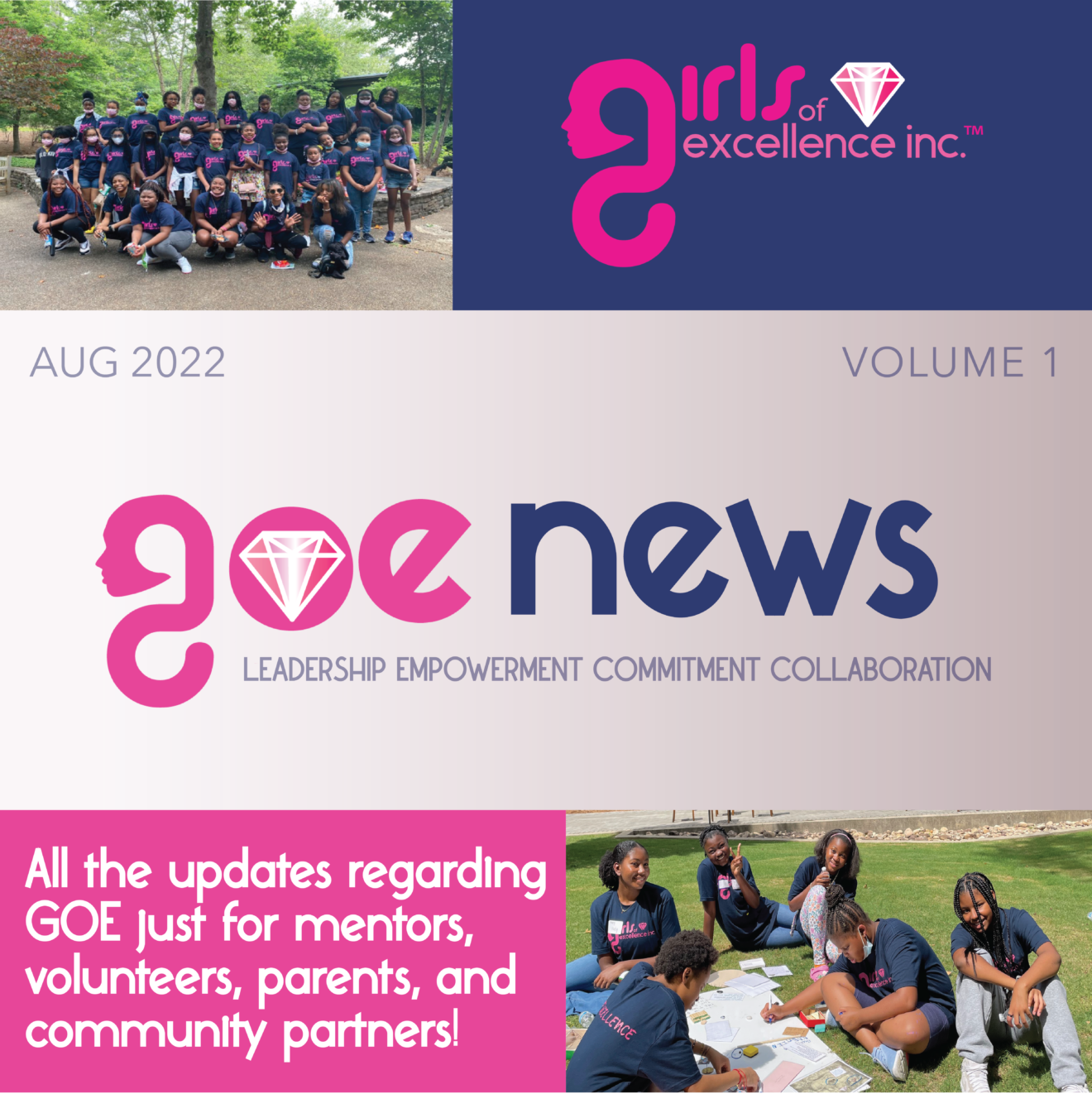 G

rowth

I

dentity

R

eadiness

L

eadership

S

ervice
Back to School!
We hope all our girls, mentors, volunteers, and parents have a successful transition back to school!

Dekalb County had their Back-to-School Bash July 23rd to get the kids excited about the upcoming 2022-2023 school year! Events like this are great for our organization so we can create connections. We're really looking forward to working with a few schools in Dekalb this year!
Atlanta Public Schools also had a Back-to-School Bash this past weekend and GOE came to represent!


In the top photo our board members are photographed with Joi Hunter, the Executive Director of Partnerships and Development for Atlanta Public Schools.


In the bottom our board members are photographed with Natalie Hall, the Commissioner of Fulton County District 4.


Safe to say GOE is always making connections! We're excited to have met these amazing ladies and thrilled to see what we can accomplish together!


Click the button to register for an info session, mentor training, or check out upcoming events!
WE STILL NEED MENTORS AND VOLUNTEERS!
Our program year begins October 3rd! We have until then to gain 120 mentors to work with 600 girls from 30 different schools.

It's not too late to become a mentor! Share this newsletter with your friends, family, coworkers... whoever you feel like would be a great addition to the GOE team!


If you're already signed up to be a mentor, check out the Mentor Training dates that are available for this month. Mentor Training is required before you begin mentoring. Trainings will be available in August and September!


Click the buttons below to apply!
Welcome to Girls of Excellence! We're excited to see the impact you make!
DONATE TO GOE
We're always accepting donations! Donating to Girls

of Excellence, Inc. help fund events, apparel, prizes,

camp fees, and SCHOLARSHIPS! It's all for the girls!




If you can't donate financially, we also accept services or items! E.g. gift cards, certificates etc.
"I AM"
GOE is launching the "I AM" Positive Affirmation Campaign this Fall! Mentees can create their own positive message to describe themselves or what you want to be.


For Example: I AM AMAZING
What's your I AM ____________ Message?
The "I AM" campaign will be filmed and created into a promotional video for Girls of Excellence, Inc. to inspire girls just like YOU!


Get community service hours for participating

! Please submit a 1 minute video with your "I AM" message wearing your GOE t-shirt by Friday, August 26!
Click

here

to email your submission!


Lets GOE!
GOE hosted Volunteer Appreciation in July and it was sweet! Thanks again to all our 2022 mentors and volunteers. We appreciate you!
Community Partner Highlight
MVK Atlanta is a partner with Broadway Across America and gave out tickets to our girls to the Mean Girls play at the Fox Theatre! Thank you MVK!
We would love to have our community Partners attend our Pep Rally October 22, 2022!
Feeling thankful and grateful is an understatement.
Doing this amazing service everyday is truly a dream manifested. Serving with an awesome team
that is dedicated and passionate is a true blessing.
We are excited to start the 2022 - 2023 Girls of Excellence Program Year launching the GOE "I AM" Campaign to empower G.I.R.L.S (Growth ~ Identity ~ Readiness ~ Leadership ~ Service)! Join us as we GOE on this journey to inspire, explore and educate our girls as they strive for their excel
lence. Consider becoming a mentor or making a
contribution today.
Toya Russell-Phillips, MBA Founder